LionCooler Pro Portable Solar Fridge Freezer, 52 Quarts
Sale price
$ 798.00
Regular price
Black Friday Sale discount code will be automatically applied once you add the product to the cart, or reach to the checkout page.
LionCooler Pro Portable Solar Fridge Freezer is designed with your needs in mind, with a Trolley featuring a Telescopic Handle and Robust All-Terrain Wheels for all your off-road adventures. This freezer is packed with amazing features to enhance your outdoor experience. Whether you're heading on a weekend camping trip or just need a more convenient option for your backyard BBQ, our versatile freezer has got you covered.
Rating: 5.0 out of 5 stars
Fast Cooling
20 Mins Fast Cooling & Cooling range between -4-68℉.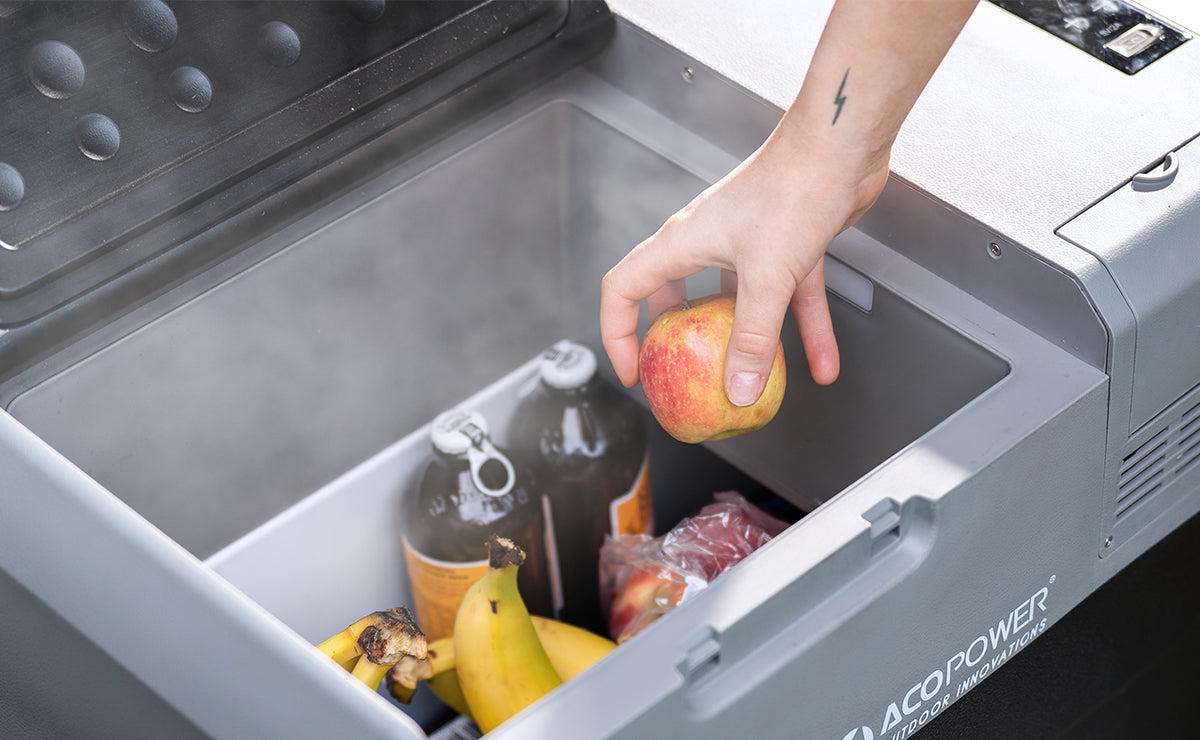 Flexible Power Options
Use AC, 12-volt DC in the car, or solar panels.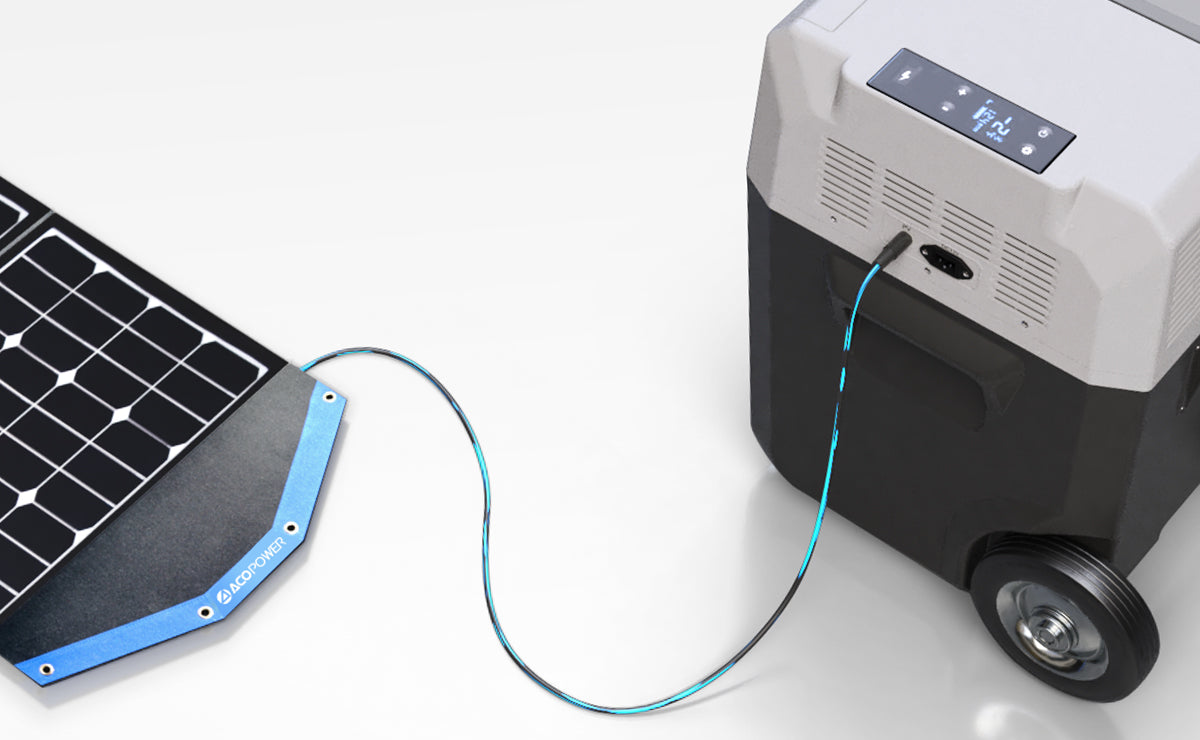 Portable & Removable Battery
Could also be used as a power bank with multi-function.
App-Controlled
Adjust the cooler's temperature using the digital LCD display or remotely with the free Bluetooth App.
Functional and Super-handy Details
ACOPower Freezer:Dry and Clean
Traditional Freezer:Soggy and Soaked
Our solar freezer utilizes advanced cooling technology that harnesses the power of the sun to maintain a cold temperature without the need for ice. Solar panels convert sunlight into energy stored in battery , powering the cooling system and ensuring your items stay cold.
While direct sunlight is ideal for optimal performance, our solar freezer can still function on cloudy days or in partially shaded areas. The built-in battery ensures continuous operation even when sunlight is limited.
If the battery is installed in the refrigerator, it will be charged with an AC adapter for about 4.5 hours; if it is charged with a 90w solar panel, it will take about 5~6 hours
The duration of cooling depends on several factors, such as the ambient temperature, the contents of the freezer, and the frequency of opening and closing. In general, If set to 0°solar freezer can maintain low temperatures for up to 10 hours without direct sunlight but only with the battery.
Absolutely! Our ice-free solar freezer features a compact and lightweight design, making it highly portable. Additionally, it is equipped with a telescopic handle and sturdy wheels for effortless transportation, even on uneven terrain.
The ice-free portable solar freezer is versatile and can be used both indoors and outdoors. It is perfect for camping trips, road trips, picnics, and other outdoor adventures, but it can also serve as a reliable backup for power outages or as an eco-friendly cooling solution for various indoor applications.
Yes, our solar freezer is designed with sustainability in mind. By harnessing solar energy, it significantly reduces reliance on traditional energy sources, minimizes carbon emissions, and eliminates the need for ice, reducing waste and environmental impact.
Our ice-free portable solar freezer is available in various sizes and storage capacities to cater to different needs. Whether you require a smaller unit for personal use or a larger one for commercial purposes, we have options to suit your requirements.
Absolutely! Our solar freezer is constructed with high-quality materials and built to withstand outdoor conditions. It is designed for durability, ensuring reliable performance even in rugged environments.
Yes, there are some maintenance requirements for a solar freezer to ensure its optimal performance. free from dust and debris, ensuring proper ventilation for the compressor, regularly checking and maintaining the battery charge level, Additionally, it is recommended to have a professional technician inspect and service your solar freezer on a regular basis to prevent any potential issues and extend its lifespan.
Temperature Range: -4℉ to 68℉
Climate Category: T/ST/N/SN
Rated Voltage DC: 12V/24V
Fuse: 10A
Total Input Power: 50W
Rated Current For DC: 4.2A/2.1A
Refrigerant: R134A
N.W: 13.4Kg (29.54lbs)
Size: 628*409*403(mm) / 24.72*16.10*15.86(in)
Temperature Range: -4℉ to 68℉
Climate Category: T/ST/N/SN
Rated Voltage DC: 12V/24V
Fuse: 10A
Total Input Power: 50W
Rated Current For DC: 4.2A/2.1A
Refrigerant: R134A
N.W: 14.9Kg (32.84lbs)
Size: 628*409*513(mm) / 24.72*16.10*20.19(in)
Temperature Range: -4℉ to 68℉
Climate Category: T/ST/N/SN
Rated Voltage DC: 12V/24V
Fuse: 10A
Total Input Power: 50W
Rated Current For DC: 4.2A/2.1A
Refrigerant: R134A
N.W: 15.4Kg (33.95lbs)
Size: 628*409*583(mm) / 24.72*16.10*22.95(in)
Temperature Range: -4℉ to 68℉
Climate Category: T/ST/N/SN
Rated Voltage DC: 12V/24V
Fuse: 10A
Total Input Power: 50W
Rated Current For DC: 4.2A/2.1A
Refrigerant: R134A
N.W: 13.4Kg (29.54lbs)
Size: 628*409*403(mm) / 24.72*16.10*15.86(in)
Temperature Range: -4℉ to 68℉
Climate Category: T/ST/N/SN
Rated Voltage DC: 12V/24V
Fuse: 10A
Total Input Power: 50W
Rated Current For DC: 4.2A/2.1A
Refrigerant: R134A
N.W: 14.9Kg (32.84lbs)
Size: 628*409*513(mm) / 24.72*16.10*20.19(in)
Temperature Range: -4℉ to 68℉
Climate Category: T/ST/N/SN
Rated Voltage DC: 12V/24V
Fuse: 10A
Total Input Power: 50W
Rated Current For DC: 4.2A/2.1A
Refrigerant: R134A
N.W: 15.4Kg (33.95lbs)
Size: 628*409*583(mm) / 24.72*16.10*22.95(in)