---
Flexible And Portable: the thin solar film can be gently flexed to follow a smooth curve of 27 degrees max on a coach roof, RV, boat, caravan, cabin, tent, golf cart, etc. Light weight of 4.85 lbs.
Powerful and Durable: made from Sunpower monocrystalline PV cells, the most efficient solar cells provider in the world. 21.5%-24% Higher-than-average Module Conversion Efficiency. ETFE Design longer life time of 15 years and is Scratches-protected and weather resistant.
Extended for Solar Panel Kit: matching ACOPOWER 20A/30A/40A charge controller for 12V battery; Then with cables and MC4 connectors you could set up your 110w, 220W, 330W or 440W Solar Panels + Charge Controller + Battery or Solar Panel + Generator off-grid Solar System, even for DIY starters.
Easier Installation: No reinforced mounting holes, more waterproof and you can design it as your need. Could be affixed by adhesive, grommets, zip ties or velcro. MC4 Connectors for mounting series or parallel circuit; T/Y connectors and 20ft PV Extension Cable, Battery Bare Wire Cable is needed for your solar system.  You can find these cables in our store.
Excellent Service: 100% money back guarantee if you are not satisfied with it. Technical Support and Customer Service based in California USA. ACOPower is specialized in solar power system and we supply matching accessories.
Note: The panel is not foldable or bendable.
Product Info. 
The ACOPOWER 110 Watt 12 Volt Semi-Flexible Light Weight Solar Panel uses advanced SunPower monocrystalline cells that have been laminated into a thin plastic sheet. The result is a solar panel that is far more durable and efficient than traditional glass and aluminum models. 
Product Specification 110W Semi-Flexible Solar Panel (Made of SunPower Solar Cell) 
Peak Power (Pmax):110W 
Peak Circuit Voltage(Voc):20.8V 
Max Power Voltage(Vmp):17.6V 
Short Circuit Current(Isc):6.87A 
Max Power Current(Imp):6.25A 
Power Tolerance Range:±5% 
Maximum System Voltage DC:1000V 
Dimension: 44.68*21.26*0.12 Inch
Weight:4.85 LB 
Makes installation quick, easy, and affordable. 
Holes on panels are pre-drilled for fast mounting and securing, perfect for non-permanent installations 
Can be affixed by adhesive, grommets or Velcro (with which you can easily attach or detach the panels) 
Can be installed without costly structural roof reinforcements 
Widely Compatibility: 
Boats/Sailboats, Yachts, Marine applications, Motorhomes/RVs, Expedition Vehicles, Commercial Trucks/Trailers, Caravans/Popup Off-Grid and Remote Communication sites and more 
Flexible 
Can be curved to a maximum 27-degree arc 
Versatile installation options: applicable for RV, boat, cabin, tent, yachts or any other irregular surface 
Ideal for storage in tight spaces or crowded areas that are typically off-limits for traditional glass and aluminum models 
The junction box is sealed and waterproof 
Warranty Policy 
18 months worry-free workmanship warranty and 25 years 85% output warranty guarantee for every purchase from ACOPOWER .Efficient and 100% satisfied customer service.
ACOPOWER 110W Flexible Solar Panel User Manual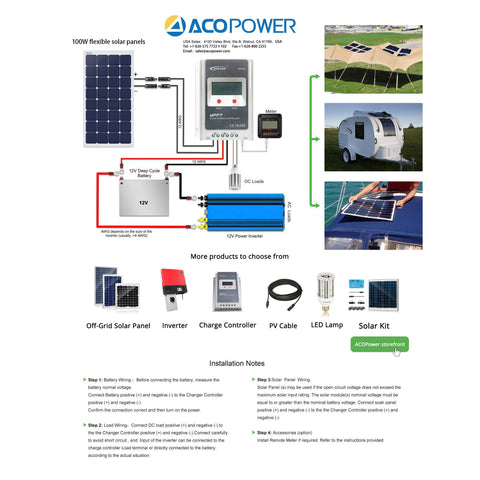 Shipping & Returns
We hope you have enjoyed your online shopping experience with ACOPower. Please read below for more information about our shipping and return policies.
For Continental U.S. Orders: 
ACOPower offers free shipping for many of our products with UPS Ground, Fedex Ground, USPS First Class or Priority according to size, weight and delivery address. Any items that qualify for free shipping will be identified on the product listing page. Before shipping, the order processing time will take between 1-3 business days. 
Usually, the USA Ship From address zip codes are Walnut CA 91789 or Chino CA 91710. Depending on your order, your purchase may arrive in multiple packages from different locations. 
If any special requirements on shipping, please contact us: 
ATT/Re: SHIPPING to support@acopower.com with your order ID  and shipping address.  
Some Explanations: 
ACOPower offers a variety of shipping services as listed below besides free ground shipping: 
 

2-day or 1-day shipping. Extra shipping charge would be applied. Please note that not all items are eligible for Two Day or One Day shipping due to size, weight, hazardous materials, and delivery address. Expedited orders cannot be sent to PO Boxes.

 

Signature confirmation. Your order can add the signature confirmation for the shipping. Extra shipping charge would be applied. 

 

Expedite Processing. As soon as you place an order, inform ACOPower team for the expedition requirement. Processing times are based on business days (Monday to Friday) excluding Holidays and weekends.

 

Pick-up: If you are in the area and would like to pick up your order from our warehouse, please call us to confirm.

 

Freight: Orders larger than 150lbs could be shipped by freight. Talk with sales rep. for discount and shipping fee. Please note that return orders by freight will have the shipping charge for delivery and return transportation.
Some other conditions: 
Shipments cannot be rerouted once a package has been shipped.
Any orders in need of replacements due to shipping errors or damages in shipment will be sent out via ground shipping. Replacement orders cannot be expedited.
We understand that often professional installation is desired. However, we strongly suggest that you wait until you have received and verified the condition of your order before scheduling any work to commence with your new ACOPower products. While we strive to provide the best quality products and expect a high level of service from our third-party carriers, we recognize that at times a product or particular delivery method does not meet our standards or quoted delivery date. Due to unforeseen issues potentially occurring, we strongly suggest that you wait until you receive and verify your products as we cannot be held responsible for delays in scheduled work.
ALL SHIPMENT SHOULD BE INSPECTED AT THE TIME OF DELIVERY. DAMAGED PACKAGES SHOULD BE REFUSED. If you notice any damage, you should note it on the freight bill when signing for delivery.  If your product is defective or sustains damage during shipping, please contact us at support@ACOPower.com right away. Remember to keep all the original packaging for any items that need to be returned. The returns need to be authorized by our customer service department prior to being processed.
If delivered by Truck Freight, please contact the freight carrier at the phone number on the carrier's bill. After contacting the carrier, please call ACOPower.com Customer Service at (626) 575-7722 for further assistance with the damaged shipment. Please note, signing for your delivery without noting any damages or inability to inspect the delivery on the relevant paperwork legally states that you have received your freight in good condition and ACOPower.com cannot be held liable for any damages, missing pieces, etc. that may be incurred as a result of this decision. Leaving a note or instructions for the driver is considered to be the same as signing for your products in good condition. If you authorize the freight company to leave freight without a signature, ACOPower.com cannot be held liable for any damages, missing pieces, etc. that may be incurred as a result of this decision. If you choose to sign for a visibly damaged please note on the relevant paperwork that you are signing for a damaged package; however, ACOPower.com cannot be held liable for any damages or missing pieces for accepted via signature delivery.
Alaska, Hawaii, and Puerto Rico
Yes, ACOPower can ship to Alaska, Hawaii, and Puerto Rico via USPS for small parcels and UPS 2nd Day for larger packages, but there is typically a surcharge.
International
Depending on where you're located, ACOPower may be able to ship a purchase internationally. Please e-mail us your address and inquiry at sales@acopower.com so that we can check the rate and service area to confirm if shipment is possible. International orders may take 5-20 business days for shipping.
Returns
At ACOPower, we would like to ensure that your shopping experience is unsurpassed, even for a return. We realize that for whatever reason, you may decide to return your purchase.
Please return it as following: 
    Ship to:  ACOPower - return 
    Address:  4120 Valley Blvd, Walnut, CA 91789
    Phone:  626-575-7722 
With the return parcel, please attach:  Your order ID and reason for return as well as MRA # if applicable.  
ACOPOWER would process the refund according to our warranty policy in 5 business after receiving.  
For new, undamaged, and unmodified products, ACOPower offers a 30-day refund policy. 
Products returned outside of 30 days require special authorization. Any return submitted for a refund will be subject to a 10% restocking fee and shipping costs. 
In the case of product modification, ACOPower will not accept your return as it voids our warranty policy. If you send us a modified product for a refund, the product will be returned to you at your expense.
Please Note that ACOPower will waive the 10% restocking fee and pay the shipping costs of the returned item(s) for the following reasons: carrier damage, defective product, product inconsistent with advertisements, incorrect product, or for extra product you did not order. For any other reasons, customers are responsible for shipping and restocking fees.
At ACOPower, we value our customer relationships. Therefore, we offer you a brief explanation for our restocking fee. All customer return items must be inspected and tested by our Technical Support and Engineering departments for performance and continuity before they can be restocked for sale. This fee is not a simple handling fee, but an attempt to cover the labor costs involved with customer returns.
Replacements
If there is any issue with your product, please contact our Tech Support at support@acopower.com or 1-626-575-7722. Our team will assist you in troubleshooting your product. 
In the event a replacement is necessary, we would process the replacement according to our warranty policy. We will arrange for return shipping of the old part/item. Once the part/item has been received and inspected, we will ship the replacement part/item. If damage occurs due to improper handling during the setup or installation whether done professionally or by the customer, then the product is no longer eligible for replacement or refund.